May 22nd, 2005
---
07:40 pm - Portland!
I'm in Portland, Oregon right now! YAY! Out here visiting Mandy and Mel (and Smidge and Sierra) this week - we just got here at 11 AM Pacific time (after getting up at 3:40 AM Eastern time to get to BWI Airport for our 6:15 AM flight).

It is SO good to see Mandy and Mel - we haven't seen them since we all moved last summer, and I've really missed it. They are my favorite lesbian couple friends that we have. :) Hopefully we'll do all sorts of fun stuff this week with them. I think we'll get to see our friend Annette too, if she can come down from Washington or we go up there. Excellent. :)

Devon also came to visit DC from Wednesday to yesterday. It was excellent to see her as well! I'm trying to see as many friends as I can before I leave for Armenia. Which, by the way, happens in LESS THAN TWO WEEKS from now. Holy crap. I have so much to do before then.

Anyway, instead of being on the computer, I should go hang out with our fun friends. Off I go! :)
Current Mood:
amused
Current Music: Sex and the City theme song

May 9th, 2005
---
06:44 pm - My new "ticker" (thanks to Meggan)
a href="http://www.TickerFactory.com/">

Current Mood:
contemplative
Current Music: ABC News theme song

April 28th, 2005
---
07:41 pm - Chicago? Interesting.
American Cities That Best Fit You:

60% Chicago

60% Philadelphia

50% Honolulu

50% New York City

50% Washington, DC
Current Mood:
relaxed
Current Music: The Ditty Bops

April 1st, 2005
---
11:40 pm - Need... a break...
Wow, it is absolutely remarkable how overloaded I am these days. It's getting to the point where bed time is the only time where I'm not at least moderately stressed. And sometimes it even gets into my dreams and stuff.
Okay, so I'm being dramatic, I have to stop. Things aren't THAT bad - I think it's just been a tough week. I've been a little under the weather, and so I've been extra-irritated at work, getting annoyed when stupid people at work stop me and give me some vague description of some book that used to be on one of our displays two months ago and then expects me to know what he/she is talking about. I even get annoyed a little at people with completely normal questions, though (like, "where is book X, I don't see it in the section?"). I need to re-load my patience or something, because it has totally been maxed out. Hopefully that'll get better once I'm feeling better, and once we don't have HUGE book shipments coming in every day, which has been the case this week.
I wish there were more hours in the day. After work I don't have much time in the evening before I go to bed and then get up and do it all over again. Yet, I'm supposed to be getting time in each night for GMAT prep questions/assignments, practicing for my crazy 1 1/2 hour performance this month at B&N (do I even have enough original material to fill that time? I'm stressing), attempting to get the pieces of my CD put together (and also hoping that I won't lose money on the whole project, since sales are lagging thus far), trying to see my family as much as possible before going to Armenia, trying to spend some time with Meggan before we're apart in different 3rd world countries, and also wanting a tiny amount of time where I can just do nothing at all except read, or nap, or sit and play my PSP. Free time is like this rare gift that is so special when I find it. And even when I get it, I feel like I should be doing something else.
At least I have some planned free time coming up - a week in Aspen with Meggan and her family at my folks' new St. Regis timeshare property, hopefully a few days in Portland, and a couple of weeks after quitting work before I leave in June. It's funny... even though the customers have been annoying me this week, I kep realizing more and more how much I'm going to miss being at B&N every day. That's mostly about my friends there (especially peeps like Kerri, Charles, Will, Meagan, Nicole and the gang), but I'll also miss the atmosphere. I'll miss knowing that every time I come in on a day off, I'll know so many people and I'll know exactly what I'm looking for. It's cool to feel like you're coming home when you visit work.
Meggan and I visited my brother Dave in Ohio last weekend from Friday to Sunday - it was so fun to see him. We brought my dog Sophie along, which was an extra bonus. Dave's dog Annie was psyched to see all of us! It was so nice just hanging out with Dave - we went shopping for electronics stuff (and each got the new PSP, which is AMAZING), saw "The Aviator," had dinner and drinks with his friend Danielle, and spent time at his house just watching Sportscenter or playing video games, and the like. It's going to be so strange, not seeing him every few months once I leave for Armenia. I've gotten so used to seeing my whole family - it's going to be quite a shock to my system when I'm gone.
For now, though, I'm still here. So maybe I need to refocus. Here's my list of potential plans (whether or not they actually come to fruition): 1) be nice to customers. Usually they are pretty cool people, and only rarely are they obnoxious/annoying/frustrating. 2) do a little GMAT work every day so it doesn't seem so intimidating by the couple of days before the next class. 3) see friends as much as possible, whether it be at work, or out and about. 4) practice a few/several songs on the guitar each day to prep for the big concert. a couple of weeks before the performance, start doing chunks of 45 min to an hour a day to build up the stamina. 5) spend as much time as possible with family (and Meggan), doing family things. 6) start a very detailed packing list for Armenia, so as to start realizing this really IS going to happen and I really AM going to go. 6) get enough sleep to feel mostly rested most of the time.
I think that's a good start. :)
Current Mood:
nervous
Current Music: The L Word theme song

February 15th, 2005
---
08:01 pm - Singapore, Part 1 :)
I figured it was about time to update my journal, now that I've been in Singapore for a few days! So here we go - I'll start from the beginning.
Meggan and I flew out from Dulles Airport in DC to Los Angeles on Friday night around 7 PM. It was mostly an uneventful flight except for a period of pretty strong turbulence near the end of the flight. It was pretty scary - it's the worst turbulence I've ever been in! The plane would shake a lot and drop several feet, leaving my stomach in my throat. ;) I kept expecting to look out the window and see that the wing had fallen off or something... I am very glad it stayed on!
Getting to our flight to Taipei in Los Angeles was crazy and hectic - for some reason, they have no way to get from the regular terminals to the international terminal without going outside of security and then WALKING all the way down the terminals outside! It was just insane. Meggan and I had to speed walk like a mile from our terminal to the international terminal, and then we had to wait in a huge security line to get to our gate. We almost missed our flight, but we managed to get there in time! At least our bags were checked all the way through or we might not have been fast enough.
However, the flight after that was great! We were on Singapore Airlines, which is ranked as the top airline in the world on a regular basis. The 14 hour flight went by quite quickly thanks to good service, some sleep, and a great OnDemand TV system that had 60 movies, 200 music channels, a bunch of video games and about 100 TV channels. You could start any Movie, TV show or CD at any time! I really enjoyed it. After a brief stop in Taipei so they could refuel the plane (where Meggan had some Taipei coffee, heehee), we got back on the same plane for our 4 hour flight to Singapore.
Once we arrived in Singapore at around 11:45 local time on Sunday (13 hours later than home!), the customs process was easy and we were out seeing my aunt Jane within a half an hour or so! It was really nice to see her - we get along really well together. She took us to our hotel (the Singapore Marriott - it is very beautiful!) - we checked in, and thanks to Mom, we were given a room on the 29th Floor (one from the top!) and Executive Lounge privileges (where we could get a really nice breakfast every morning for free, as well as hors douvres in the afternoon and little desserts in the evening!). We are so lucky!
Meggan and I were definitely feeling sticky and gross after the long flights, so we showered and put on nice clean clothes, and then we were ready to go out and enjoy the warm weather! The three of us went hiking in the Bukit Timah Nature Reserve, which took us to the highest point in Singapore! There were some brutal uphills on the hike (boy did we get a workout on those after being jetlagged!) but for the most part it was just a nice, winding path through a rainforest. Really beautiful. We got to see a monkey and a monitor lizard on the trip, too. Yay animals. :)
After the hike we went to Bob (my uncle) and Jane's house to get Bob and go to dinner. They took us to a great sushi place in Holland Village (the village is a big ex-pat hangout), where I had some yummy dumplings and a few sushi rolls, and then we walked around the Village for a while looking at the shops. After a quick stop at 7-11 for hotel snacks, we were back on the road to our hotel, where we said good night to Bob and Jane for the evening. We took the opportunity to look over the tour brochures, and we booked a City Tour for the next day and a tour of Kukup, Malaysia for Tuesday. The time difference caught up to us about then, and we were headed to bed by about 9 PM.
On Monday morning we rose bright and early and had a really nice continental breakfast in the Executive Lounge. They had all sorts of selections - scrambled eggs, sausage, potatoes, fruit, pastries, cereal, smoked salmon, and more. It was a great way to start the day. Then we took our City Tour at 9 AM. It was so fun! First we stopped at Little India and got to walk around through the various shops - we even got to see a Henna tattooing demonstration. The next stop was Chinatown where we got to shop a bit, and right next door to Chinatown was the Sri Mariamman temple, which was an intricate and beautiful Hindu temple. Then we went to an area by the riverside with a beautiful view of the financial district! They also had a bunch of Botero sculptures set up by the riverside since many of his pieces are touring in Singapore right now, so we got a bunch of pictures of them. In fact, we've been taking tons of digital pictures on this trip so far... we've taken about 300 so far, since we've been doing so much! After the Riverside the tour took us to a gem factory with beautiful jewelry made with everything from emeralds to tanzanite to jade. The last stop was the Botanic Gardens, which houses many different forms of the orchid - it's a stunning flower, I never knew there were so many types!
After the city tour we found lunch at some of the underground markets/food places by our hotel. I had a beef and rice bowl, and Meggan had some cucumber sushi rolls. We took a quick nap after lunch, and then met up with Bob at 4 in the afternoon to go to the Zoo. Singapore has a very nice zoo, there are so many wonderful animals there! We wandered around in it for a couple of hours, seeing everything we wanted to except for the White Tiger (the zoo had closed by the time we got to it and they'd taken them away for feeding or something). But we saw so many beautiful animals - otters, snakes, primates, birds, wild dogs, rhinos, sea lions... even polar bears! The Singapore Zoo was the first place a polar bear had ever been born in a tropical environment, apparently!
At about 7 PM or so we ate dinner in front of the entrance to the Night Safari (which we also decided to do in the same day - we did a lot on Monday!) and then went in at around 8 or 8:30, once it had gotten nice and dark. For the Night Safari you take this little tram around the park and see all of the animals in a natural night environment. They really did the lighting well for this experience - dark enough to make it seem like night for the animals - the amount of light you might expect from a full moon - but light enough to see them in detail still. That was amazing... we saw tigers, giraffes, hippos, and so much more. The best part for me was the one stop where you could get off and walk the "Leopard Trail," though. There were tons of animals along the trail leading up to the leopards. However, the leopards were the most spectacular - you could get right up to the glass and have your head only inches away from theirs. What a way to see them up close! There was also one called the Clouded Leopard that had such an intricate coat design... I loved it. In spite of the spectacular leopards, though, I think my favorite part of the trail was the chance to see two otters playing with each other! They were so active and crazy with each other, running and swimming around. They even looked up at us every so often, as if we were the entertainment! They make such cute little noises too. Otters are definitely my favorite animal.
It was about 10 PM by the time we finished. Meggan and I bought little lion and tiger stuffed animals from the shop and then the three of us shared a taxi back to our respective locations! I think Bob had a nice time with us... even though he lives here, it had been a while since he had been to the Night Safari, so it was kind of a new experience for him as well. Once Meggan and I got back to the hotel, we had a quick dessert up at the Executive Lounge and then got some sleep.
Our Kukup Malaysia tour on Tuesday started even earlier than the City Tour! By 8AM we had gotten up, showered, had our good continental breakfast in the lounge, and boarded a bus to take us to a new country. We had to wait in a couple of lines to get cleared to cross the border, and then we were on our way for the tour! Our tour guide (his name was something like Ashok, pronounced "a-shock") was Malay, and that's the way the country tours work - Malay guide for Malay tours and Singapore guide for Singapore tours. He was a really nice and interesting guide.
Our first stop was at a pewter factory, where we got to see the process of making pewter up close. They gave us a little time to shop (Meggan and I didn't see anything we wanted though), and then we were on our way. The next stop was in a huge grove of oil palms. Apparently, Malaysia is the #1 exporter of palm oil in the world! They had to do that after new developments in rubber made their rubber less desirable years ago - they dropped from the #1 to the #3 producer of rubber in the world and needed a new top export. The guide showed us the fruit of the oil palm tree, and how to get the oil out... it is this shocking orange color! Very neat. It is used for so many things - sunscreen, different types of soap, and even for cooking.
After that we went to a place that used to be a HUGE orchid farm. Nowadays they have broken it up into different uses, like oil palms, rubber and other things, but when it first started it was all orchids. They still had amazing amounts of orchids growing, however! We took a little tram ride around the farm to see all of the things they had growing there. It took us all the way up to the highest point, where we could look out over large expanses of healthy crops. When we came back down, a lady who was organizing the orchid sprays gave Meggan and me each a spray. They are so beautiful - mine is purple and Meggan's are purple and white. I have them sitting next to me at the computer right now in water, and they're doing well so far! Anyway, after that stop we made our way to Kukup (all of these other stops were on the way, since Kukup is over an hour from the border). In Kukup we took a fun boat ride around to see the fisheries. We were even able to get out at one of the fisheries out on the river to see how it works. We saw a bunch of different types of fish that they were raising. Apparently at this time of year it's also the best time to catch HUGE jellyfish from the river, and we got to get up close to a boat that had a dozen or so gigantic jellyfish that someone had caught earlier in the day. They were the size of extra-large pizzas, I couldn't believe it!
We went back to shore after that and had a really impressive lunch - courses of crab, fried rice, shrimp, veggies, chicken, and even a fresh fish that they brought out whole for all of us to split. I had never eaten a fish like that, where it could still kind of stare at me. :) Then after lunch we had a little time to shop in Kukup. Meggan and I each bought a fake Adidas watch and cute wooden bead bracelets. We also got a couple of Kukup post cards and a fake Nike collar shirt for me. Yay for fake merchandise. ;)
On the drive back from Kukup we stopped at a place where people were creating Batik art. Batik is the art of using colored wax on cloth to make colorful double-sided patterning. It's amazing! We got to see people actually creating the scarves/handkerchiefs/wall hangings. We also got to watch a four-person Malaysian band play a couple of songs on bamboo instruments - very neat. Meggan and I purchased two of the Batik handkerchiefs, as well as two wooden frogs (the kind that have mallets where you can run it over their backs and make a frog noise. So cute). By then it was approaching 6 PM, so we all made our way back through immigration and back to Singapore. What a fun trip... an all-day adventure!
After getting back to the Marriott, Meggan and I made a meal out of the hors douvres at the lounge at 6:30 or so, and then went to the room to relax for the rest of the evening! This morning (Wednesday) we both woke up pretty early and went to have our usual continental breakfast, and now we are here in the room enjoying the comforts of rest, internet, television, books, and more. I think Meggan may update her journal, and then I think we'll take a little shopping trip around the area! :)
More to come later, for the second part of our trip!
Current Mood:
happy
Current Music: The random stuff that comes on for our clock alarm!

February 5th, 2005
---
12:33 pm - Yayyyyy

You are a Gryffindor!!! A little wild and crazy,
you definitely are daring and a little out
there. You are a perpetual trouble-maker and
are more likely to get caught doing something
wrong even if you weren't there when it
happened. It's amazing the stunts you've pulled
haven't gotten you killed...yet.


Harry Potter Sorting Hat Quiz
brought to you by Quizilla

January 31st, 2005
---
12:44 am - Sunday evening (another long, fun week)
I'm never much of a fan of Sundays - it's kind of my "Monday," you know? The first day of my work week. Not that work is bad, I'd just prefer not to do it several days in a row, if I had my say. ;) But working full time and making money is a very good thing, so I can't complain!
My schedule is about to get a LOT busier, though! I just signed up for a GMAT prep course through Princeton Review, which I'll be taking on Monday nights in March and April. That will DEFINITELY keep me busy, seeing as I am sure that I'll have a lot of homework and such for it. Meggan and I are also going to attend an orientation for Boys and Girls Club volunteers in the area on Feb. 8, which may be another thing I'll be taking on (depending on how much it interests me and how easy it'll be for us to just volunteer one afternoon a week).
So, working full time, plus taking the course and possibly volunteering for the Boys and Girls Club will keep me busy! All of it is good stuff, though. So that helps.
Also, Meggan and I are taking two fun trips together over the next few months. Coming up in just a couple of weeks, now, is our trip to Singapore from Feb. 11 to 19! I can't wait to go, I've never been there before! My Uncle Bob and Aunt Jane live out there, and it'll be so fun to see them both! Meggan and I are also staying in the super fancy and amazing Marriott that's right in the heart of downtown Singapore, which will be quite an experience. I hope we can save up enough money to go sightseeing and get some souvenirs (and, you know, eat food and stuff) while we're there!
The second trip is going to be fun as well - Aspen, CO from Apr 30 to May 7! The initial plan was to quit our jobs by this time and then drive out to CO, both to the cabin and Aspen. However, seeing as to how we both really like our jobs (and would like to continue to make money for a few more weeks before the Peace Corps), we decided to just take one week and go to Aspen instead. I can't wait to be back in CO again, even if it's for a short time!
And that leads me to my biggest news of all! I just found out earlier this week that I will be going to ARMENIA for the Peace Corps in early June! The staging starts on June 3, and then I actually leave for Armenia (and my 3 month intensive culture and language training) on June 7. Wow. This is going to be intense. Meggan still hasn't gotten her invitation yet, but we're pretty sure she'll be going to Moldova. It's going to be quite a challenge to see each other, since my country is more like Central Asia than Eastern Europe (in terms of geography, not mentality). In fact, we may only get to see each other every 3-4 months or so. :( It might be as long as 6-7 months for the beginning portion as well! :( But we are a strong couple who has been together for a fair amount of time, so if anyone can do it, I really believe we can. I think Meggan does too, which gives me even more hope.
Look how gorgeous parts of Armenia are:
Provided I can find these mountains (or some like them, at least), I plan on doing some good hiking while I'm there! :)
Oh, and here's what Armenia looks like, too. It's very small: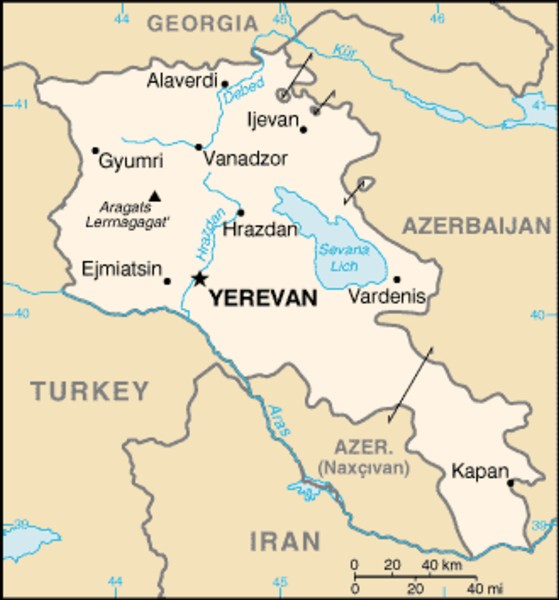 And here's where it is in relation to Eastern Europe. See it, all the way down at the bottom in the middle, by Georgia and Azerbaijan? The country right under Armenia is Iran. Kind of scary! Not really Eastern Europe at all, but who knows:
Anyway, now that I have overloaded everyone with pictures, I think it's time for me to head off to bed! But there's the current news from the Meg front. ;)
Current Mood:
creative
Current Music: Awesome Bossa Nova music at work

12:42 am - hee hee hee :)
Current Mood:
amused
Current Music: Billie Jean - Michael Jackson (not sure why!)

January 22nd, 2005
---
12:25 am
Meggan just got her wisdom teeth out today! :-p I took her in this morning and they removed all four.
We've been spending the rest of the day at home (after I went into the grocery store and ended up in a line between a guy with a kid who kept trying to throw my yogurts and a woman who was an avid Dubya fan. *shudder*). We watched a bunch of TV shows (including Sex and the City and The L Word, yay), and she's been eating some food, which is great. We also took a long nap in the afternoon, which I think was very good for both of us. The Tylenol with Codeine has been making her a little ill as of this evening, so I gave her a dose of Tylenol PM - maybe a little too much actually, oops; it should be fine, though - and now she's falling asleep as I do one last check of the mail before I go to sleep as well!
All in all, a very nice and relaxing day. I just wish that Meggan wasn't in pain. :( But it'll get better soon, at least! It'll all heal up, and then she'll be one big step closer to having dental clearance for the Peace Corps!
I can't believe I work five days in a row starting tomorrow. Ugh. It's for a good reason, at least - since my work schedule starts on Sundays, I took Sunday and Friday off this week (Sunday since I was still in North Dakota visiting my grandparents, and today). So five days shouldn't be too bad, I think. At least at that point I get my Thursday and Saturday off again. :)
Mom and Dad are in London right now. I've never been there before, but I'm sure it's amazing! Meggan has some family out there, so it might be fun for us at some point to try and visit them when they're in town (since they travel a lot). I hear it's incredible!
Anyway, time for me to get some rest. I've never worked a Saturday shift at B&N, it should be interesting! We're supposed to get hammered with snow tomorrow too, so hopefully the Element will handle it just fine. Off I go!
Current Mood:
hopeful
Current Music: Jem - They